The new initiative, in partnership with South Pole, is designed to accelerate the deployment of renewable electricity and to directly reduce AB InBev's Scope 3 GHG emissions through a powerful value-chain engagement program.
AB InBev suppliers and customers will be able to directly engage in Power Purchase Agreements (PPA) across Europe, benefiting from potential cost-savings, hedging against price volatility and securing the necessary renewable electricity volumes for their operations, ultimately lowering their Scope 2 GHG emissions.
Beyond leveraging existing projects, the program will also have the potential to add new renewable electricity generation to national grids across Europe.
14 November 2023: AB InBev, the world leading brewer, today announced a partnership with South Pole, a global sustainability solutions provider, to establish a renewable electricity group buying initiative for its customers and suppliers across Europe.
The initiative represents a coordinated effort to support AB InBev's value chain (scope 3) decarbonization by providing AB InBev partners with a network to source PPAs across Europe. The core goal for the group buying program, which will also provide access to tailored training on PPA sourcing, is to support the procurement of green electricity for AB InBev suppliers and customers.
By combining forces, the aim is to facilitate market-leading prices and provide a hedge against price volatility while securing the necessary volumes of renewable electricity to power the operations of AB InBev's partners. The initiative aims to make renewable electricity accessible to companies that would typically lack the financial resources or have insufficient power demand to independently contract such agreements.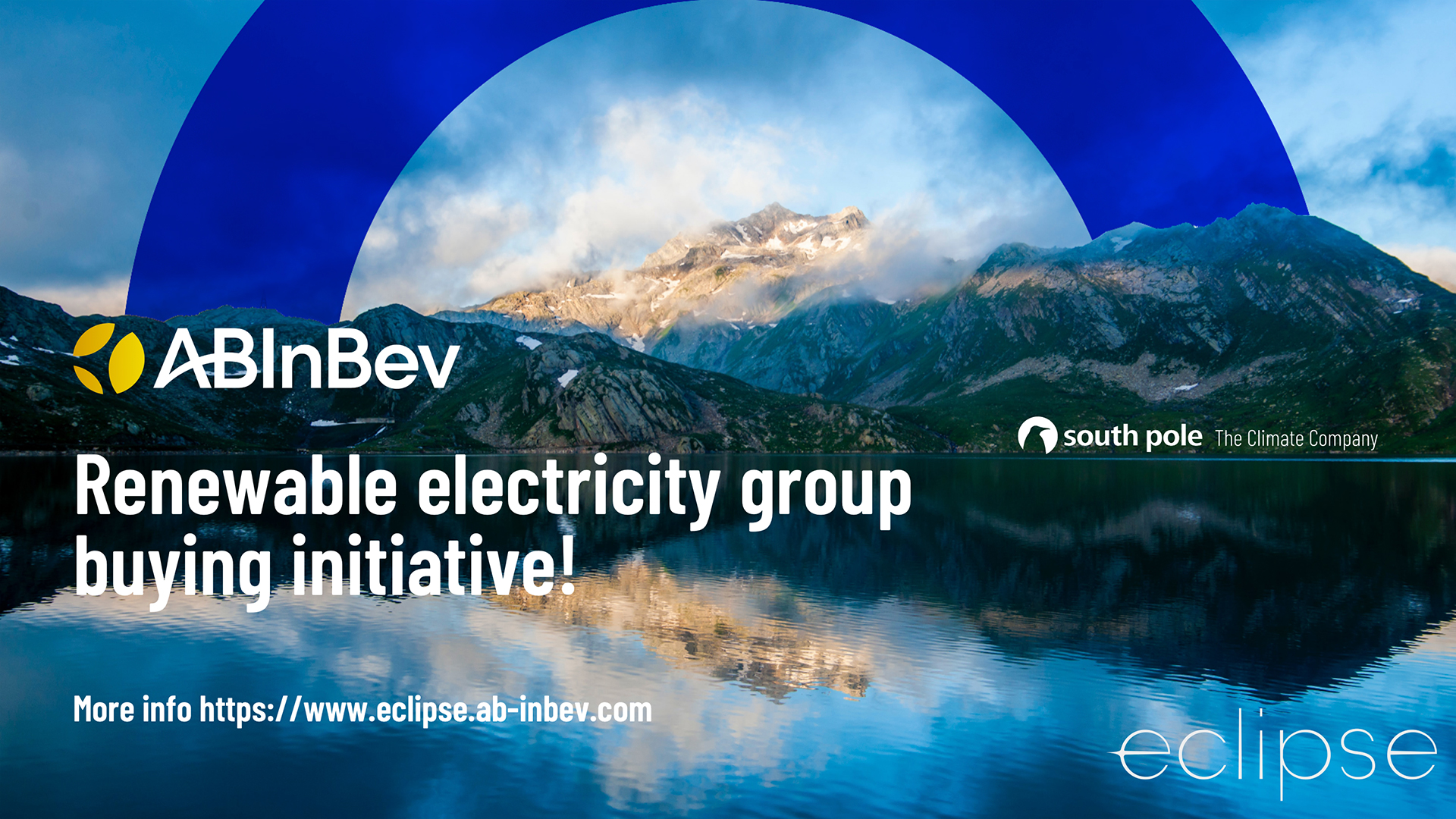 The purchase agreements, facilitated by South Pole, will also have the potential of adding new renewable energy generation to national grids across Europe.
Scope 3 emissions represented more than 85% of AB InBev total emissions in 2022, making the initiative one of the brewer's strongest opportunities for emissions reductions and a key focus of AB InBev's wider Eclipse sustainability leadership program. The Eclipse platform was developed to enable closer collaboration and alignment with AB InBev's supply chain on sustainability initiatives.
Jason Warner, Zone President for Europe at AB InBev, said: "At AB InBev, we are committed to not only driving decarbonization throughout our own operations, but designing solutions that can deliver meaningful impact across our entire value chain. Collaborating with partners who share our vision is key and represents a core tenet of our Eclipse decarbonization program and our global brand purpose – To a Future With More Cheers.
"We know from our own experience that the transition to 100% renewable electricity is a challenging and resource-intensive process. Our partnership with South Pole represents a critical step in our commitment to reducing Scope 3 emissions and will hopefully open the door for many of our customers and suppliers to begin or advance their renewable energy ambitions."
Patrick Horka, Global Director, Renewable Energy Solutions, South Pole, said: "South Pole is excited to launch this initiative with AB InBev, which is designed to help the members of the group buying program to take part in the clean energy transition and further their green ambitions without requiring them to develop and operate their own renewable energy projects. We are looking forward to the challenging but exciting journey to source European PPAs and thereby join AB InBev in their leadership in driving value-chain decarbonization."
Since 2022, all AB InBev beers brewed in Western Europe – including Budweiser, Corona and Stella Artois – are brewed with 100% renewable electricity, from a mix of on-site, near-site solar and wind installations and through Guarantees of Origin (GoOs). This achievement is supported by a 10-year VPPA deal with BayWa r.e and Verbund, which saw the opening of the 161-hectare Solar Park in Pinos Puente (Spain) in September 2022. The park generates 250 GWh of emission-free electricity per year.
Putting emissions on a trajectory consistent with the Paris Agreement requires a significant increase in the use of green energy[1].With the European Union recently revising its binding renewable target for 2030 from 32% to a minimum of 42.5%, the existing share of renewable energy in the region must almost double. Corporate PPAs and market-based availability of renewables are expected to play a critical role in achieving this target.
The Group Renewable Electricity Buying Initiative was announced at the AB InBev Europe Eclipse event for partners and suppliers which explored best practice approaches for heat decarbonization, green logistics and emissions reporting. AB InBev partners and suppliers that are interested in finding out more can register their interest via the Eclipse website.
-ENDS-
Note to editors:
About PPAs:
A contract for the purchase of power and associated energy attribute certificates (EACs) from a specific renewable energy generator (the seller) to a corporate off-taker (the buyer).
About Scope 3 emissions:
Scope 3 emissions are all indirect emissions (not included in scope 2) that occur in the value chain of the reporting company, including both upstream and downstream emissions.
About AB InBev
Anheuser-Busch InBev is a publicly traded company (Euronext: ABI) based in Leuven, Belgium, with secondary listings on the Mexico (MEXBOL: ANB) and South Africa (JSE: ANH) stock exchanges and with American Depositary Receipts on the New York Stock Exchange (NYSE: BUD). As a company, we dream big to create a future with more cheers. We are always looking to serve up new ways to meet life's moments, move our industry forward and make a meaningful impact in the world. We are committed to building great brands that stand the test of time and to brewing the best beers using the finest ingredients. From our European roots at the Den Hoorn brewery in Leuven, Belgium, we are now a geographically diversified brewery with a balanced exposure to developed and developing markets, we leverage the collective strengths of approximately 164,000 employees, including 13,500 in Europe. We have offices and breweries in 18 EU Member States and our Global Innovation Centre is also based in Leuven, Belgium. Follow us on Twitter at @abinbev_EU.
For more information about Anheuser-Busch InBev, please visit www.ab-inbev.eu
About South Pole
South Pole is a leading climate project developer and solutions provider.
Since its founding in 2006, South Pole has helped develop and provide climate finance to over 850 projects in more than 50 countries. Together, these projects have helped reduce over 200 million metric tonnes of CO2 emissions, and provided measurable benefits to communities vulnerable to climate change. South Pole's projects accelerate the transformation across all sectors, including across sustainable land-use, ecosystem conservation, circular economy, and renewable energy.
South Pole also advises governments and thousands of leading companies on their climate journeys to achieve net zero emissions. With its global Climate Solutions platform, it implements comprehensive strategies that help organisations across the world build resilience and turn climate action into long-term business opportunities. This includes enabling organisations to transition to renewable electricity through bespoke strategies and solutions.
For more information, visit www.southpole.com or follow us on LinkedIn, X (Twitter), Facebook and Instagram.
---
[1] Source: IRENA, World Energy Transition Outlook, June 2023