Jason Warner, CEO Europe Zone, comments on our Q3 2022 results and continued business momentum:
"We continue to see strong business momentum, with volumes growing mid single digits. Combined with mid single digits growth of revenue per hectoliter, this led to strong double digit top-line growth.
In 3Q22, our Global Brands & Super Premium brands increased revenue by double-digits. Premium and Super Premium brands combined contribute to more than half of our total revenues, a +3pp increase versus pre-pandemic levels.
Across European markets, consumers returned to the on-trade in the 3rd quarter of 2022 marked by the first Oktoberfest in Germany since 2019 and the strong summer festival period. We have been preparing for the FIFA World Cup Qatar 2022TM across most of our markets. We will be activating campaigns, such as in Belgium with Jupiler launching its "Believe" campaign and Budweiser rolling out our global campaign across Europe."
In Q3, we continued to implement revenue management initiatives across all key markets. Moreover, we continue to execute on and invest in our three key strategic pillars to deliver consistent growth and long-term value creation. Our incessant desire to lead and grow the category can be seen through our premiumization and mix initiatives.
Our DTC product, PerfectDraft, expanded its shopper base by more than 20% versus 3Q21. We continued to digitize and monetize our ecosystem through the launch of BEES in Europe, with successful introductions in the UK . Finally, we continue to optimize our business and reinvest into organic growth for the future.
Given the ongoing situation in Ukraine we continue to prioritize the safety of our Ukrainian colleagues by providing accommodation support in safe areas in Ukraine and Western Europe. We have produced and delivered 3 million cans of drinking water to Ukraine with another 2 million cans underway.
In response to increased pressure on energy markets in Europe, we have put in place robust mitigation strategies to ensure business continuity. Moreover, we continue on our decarbonization journey. With the opening of the Pinos Puente Solar Park near Granada, Spain and a second park in Archidona, Spain we are now generating enough energy to enable AB InBev beers across Western Europe to be brewed with 100% renewable electricity.
We continue to lead and grow the beer category and create a future with more cheers.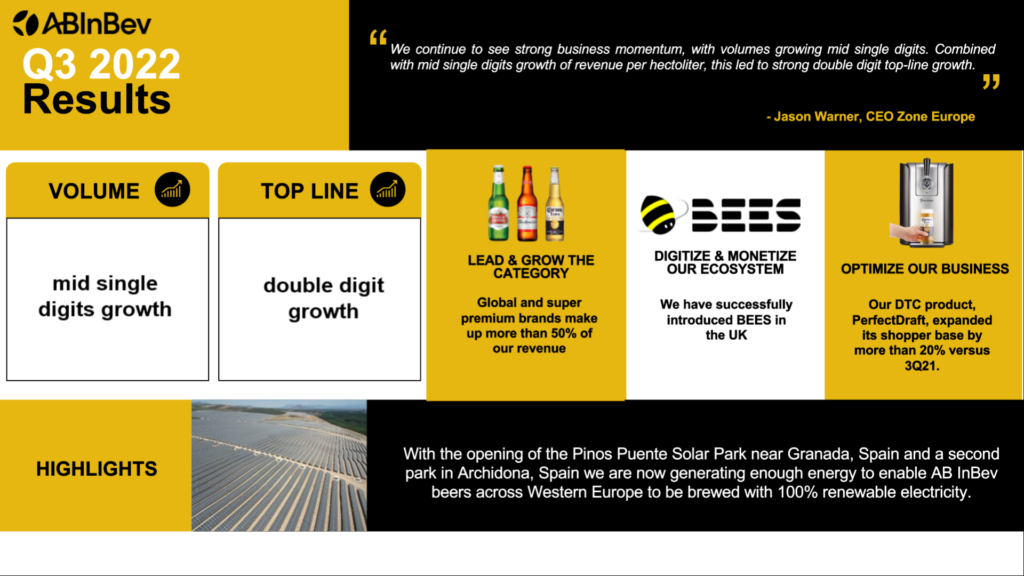 About Anheuser-Busch InBev (AB InBev)
Anheuser-Busch InBev is a publicly traded company (Euronext: ABI) based in Leuven, Belgium, with secondary listings on the Mexico (MEXBOL: ANB) and South Africa (JSE: ANH) stock exchanges and with American Depositary Receipts on the New York Stock Exchange (NYSE: BUD). As a company, we dream big to create a future with more cheers. We are always looking to serve up new ways to meet life's moments, move our industry forward and make a meaningful impact in the world. We are committed to building great brands that stand the test of time and to brewing the best beers using the finest ingredients. From our European roots at the Den Hoorn brewery in Leuven, Belgium, we are now a geographically diversified brewery with a balanced exposure to developed and developing markets, we leverage the collective strengths of approximately 169,000 employees, including 13,500 in Europe. We have offices and breweries in 18 EU Member States and our Global Innovation Centre is also based in Leuven, Belgium. Follow us on Twitter at @abinbev_EU.
For more information about Anheuser-Busch InBev, please visit www.ab-inbev.eu