Jason Warner, Europe President, AB InBev comments on our Q3 2021 results and continued business momentum
"In the third quarter, our business in Europe grew volume and revenue by low-single digits, fuelled by the much-welcomed recovery of the on-trade and supported by our strong premiumization strategy. As vaccination rates increased in our key markets, the on-trade demonstrated encouraging signs of recovery, driven by healthy distribution and share gains. Our performance in the off-premise remained strong, growing double-digit volume above pre-pandemic levels, along with market share gains in all our key markets.
After more than a year, we were finally able to visit our teams in the field in France, Germany, UK and many others, as well as engage with our key customers to thank them for their commitment, resilience and hard work during the summer months.
We continue to advance our premiumization agenda across Europe with our premium and super premium portfolio now making up over 50% of our revenue. In 9 months of 2021, our global brands grew mid-single digit, led by Budweiser and Corona, while our Super Premium portfolio grew double-digit, led by Leffe, Tripel Karmeliet and supported by the successful launch of Victoria in Belgium.
Our company relies on thriving communities as most of our products are grown, brewed and sold locally. Therefore, it is incredibly important that we leverage our resources to support our communities when they need it the most. In July, we mobilised our teams to help those suffering from the impact of the deadly floods that hit many nations across Europe.
Our commitment to brew more sustainably remains unwavering as we work towards carbon neutrality. In the UK, we worked with three companies in the aluminium industry to produce five million Budweiser 440ml cans with the lowest ever carbon footprint for an AB InBev beer can produced in Europe. This quarter, we also installed solar panels on the roof of our Jupille brewery in Belgium, which will allow us to brew an additional 20 million 25cl bottles of Jupiler using renewable energy.
In September, we extended our annual Be(er) Responsible Day into our first Global Smart Drinking Week to underline our commitment to reduce harmful consumption of alcohol through 40 dedicated initiatives across Europe.
We have confidence in the underlying momentum of our business and along with our colleagues, partners, and consumers, we look forward to celebrating the festive period where we can once again come together and raise a glass as we continue to create a future with more cheers."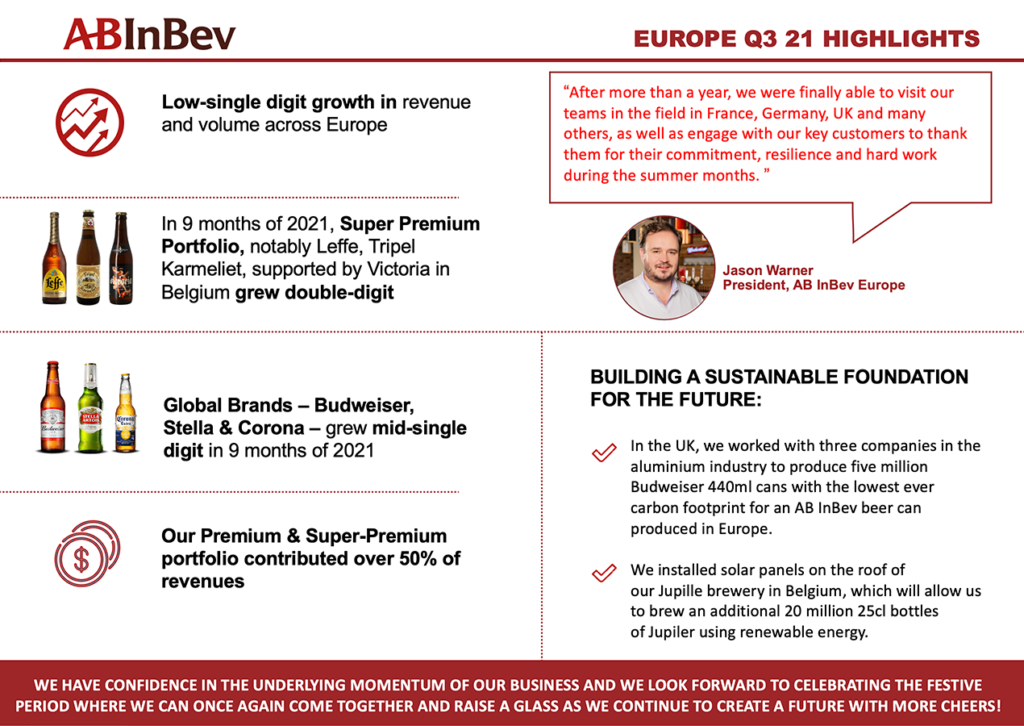 -ENDS-
About AB InBev
Anheuser-Busch InBev is the world's leading brewer and is a publicly traded company based in Leuven, Belgium. Our Dream is to bring people together for a better world. We are committed to brewing the best beers using the finest natural ingredients and to be enjoyed in a responsible manner. From our European roots at the Den Hoorn brewery in Leuven, Belgium, we are now a geographically diversified brewery with a balanced exposure to developed and developing markets, we leverage the collective strengths of approximately 164,000 employees, including 12,000 in Europe. We have offices and breweries in 18 EU Member States and our Global Innovation Centre is also based in Leuven, Belgium. Follow us on Twitter at @abinbevev_EU
For more information about Anheuser-Busch InBev, please visit www.ab-inbev.com