Jason Warner, Europe President, AB InBev comments on our Q1 2021 results and gives the outlook for Europe
"Continuing from 2020 trends, consumers are still opting for our premium and super-premium beers in store, which led to double-digit growth in the off-premise channel in this first quarter. This offset the closed on-premise channel, leading to flat year-on-year beer volume, our best volume performance since COVID-19 began. Of course, this cannot make up for the impact of a large part of the market being closed, as the on trade channel carries considerably higher margins, but we remain cautiously optimistic for a strong restart given first signs from the UK and Israel beginning to reopen the hospitality sector."
"Our performance this quarter was powered by our global brands – Budweiser, Stella Artois and Corona – which grew by low teens, with Budweiser leading the way, and particularly strong sales in the UK, Belgium, Italy and France. Our craft and specialties portfolio, which includes Camden Hells, Leffe and Tripel Karmeliet, also grew by high-single digits. Over half of our revenue in Western Europe now comes from premium or super-premium beer, which has been steadily rising over time as part of our premiumisation strategy.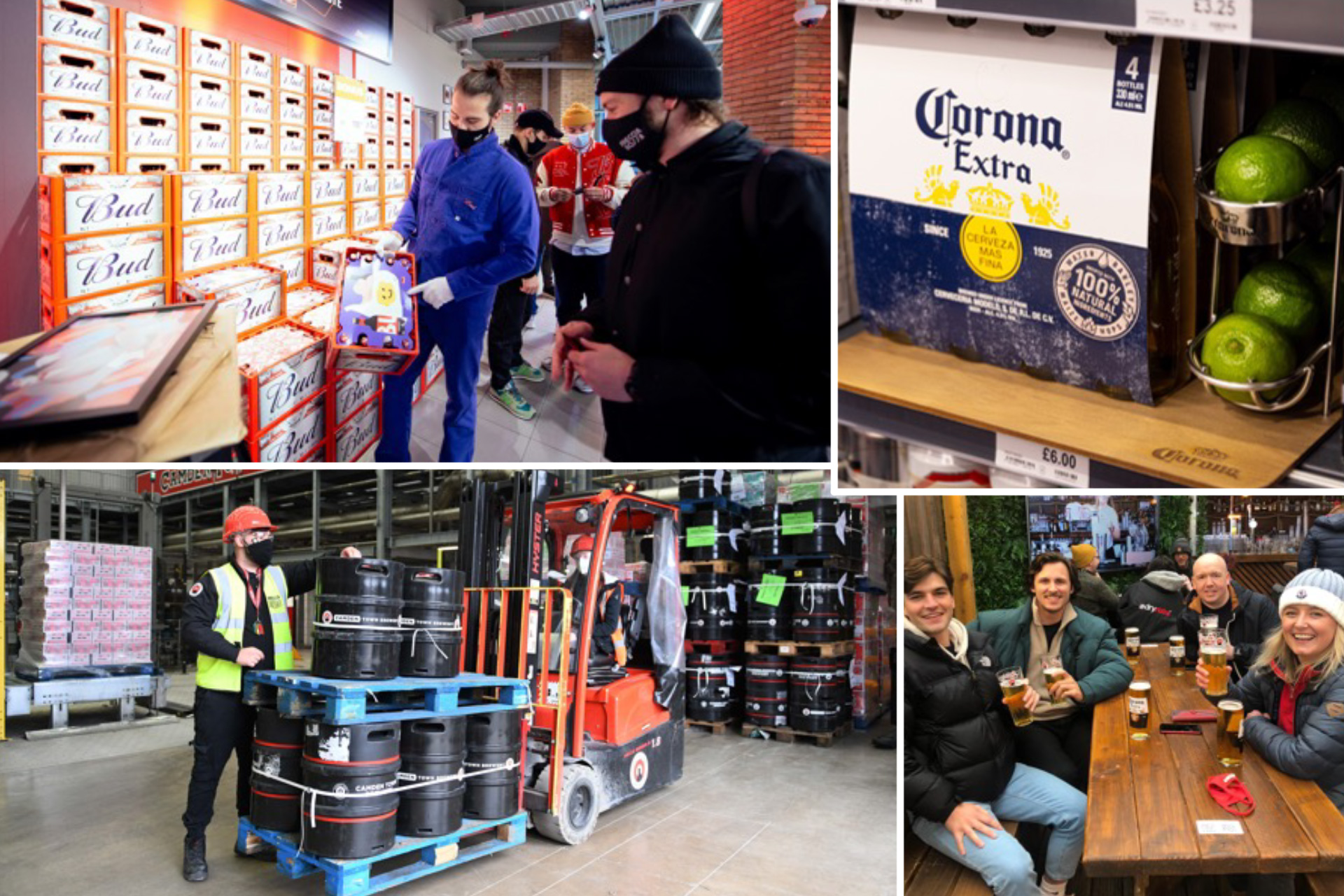 "While the environment remains tough, I'm proud of how our teams have rallied to adapt and grow in this new normal. We have shifted at speed to meet new consumer needs – from showing up at new occasions like in-home meals, BBQs and picnics to launching our global hard seltzer brand, Mike's Hard Selzer, in Belgium, Netherlands, France and Germany, just in time for summer, following its UK arrival last year.
"In the UK, our teams doubled production to help our pub and bar partners get ready for outdoor reopening in April. Demand exceeded expectations and our supply teams have been working round the clock to deliver fresh beer up and down the country and ensure that first perfectly-poured pint. We are heartened by figures coming out of the UK in recent weeks, with 44% of consumers visiting the on-trade in the first week of reopening, giving us cause for optimism for the rest of our markets reopening in the second quarter.
"We are well-placed to capture this excitement as consumers across Europe reconnect – our beers have been growing during lockdown as people treat themselves to trusted, premium and super-premium brands and the collective energy and effort of our teams have put us in a good position for growth for the rest of the year, as long as vaccinations continue to roll out and we can reopen society safely.
"Looking ahead, we are continuing to invest in Europe – in our people, in our operations, in our long-term sustainability and economic recovery. It is vital that we work together to bring the industry back to growth. Getting back to bars, pubs, and restaurants with friends, family and the local community will be a symbol of recovery from the pandemic, and will also help to reignite the whole European economy and rebuild society, with latest figures showing that the beer value chain bouncing back to pre-Covid levels would bring €13 billion in value added back into the European economy.[1]
"Today we announced that our CEO, Carlos Brito, will step down after 15 years as CEO and 32 years at the company and our President of our North America division, Michel Doukeris will step into the role from 1st July this year. I know I speak for all of our European team in extending our gratitude to Brito, for his years of unwavering leadership and valuable mentorship. On a personal note, it has been an honour and privilege to work so closely with Brito and learn from his example, and I wish him and his family all the best for the future. Congratulations to Michel and welcome – we look forward to partnering with you in this next, exciting chapter."
Our brands supporting the hospitality sector as it reopens

While the UK was focused on getting back to the pub in April, we made sure that we were giving back to the hospitality staff, who have suffered repeated closures. Through our Stella Tips campaign, for every pint of Stella Artois served we tipped £1 to staff behind the bar, encouraging consumers to do the same and start a nationwide tipping movement. Halfway into the campaign, over 20,000 bar staff have received tips so far.
This gesture is being mirrored in Belgium in time for terraces reopening on the 8th May, through our Leffe Merci Horeca activation, which will also tip bar staff affected by lockdown for every Leffe ordered.
In the Netherlands, Hertog Jan released a limited-edition beer called 'Het Weerzien,' which translates to "The Reunion" in English. Proceeds from online sales of the beer will go towards supplying local hotels, restaurants and cafés with free casks of beer to celebrate reopening.
---
[1] Brewers of Europe, COVID-19 Impact Report