Brewer donates surplus alcohol from no-alcohol beers to produce €1.5m worth of disinfectant and hand sanitizers for hospitals
Prime billboard advertising and design donated to public health campaigns
1m alcohol-free beers given to frontline workers
Monday 23rd March 2020: AB InBev, the global brewer, is today unveiling a package of support for frontline European services in the fight against COVID-19, as the number of cases continues to rise in Europe.
The Belgium-headquartered brewer is producing 50,000 litres of ready-to-use disinfectant alcohol, using the surplus alcohol from its alcohol-free beers, including Jupiler 0.0 and Beck's Blue, for European hospitals.
This initial run of disinfectant alcohol, produced in partnership with KWST GmbH and Jodima, will be delivered to crisis-coordination teams and governments across Europe to distribute it to hospitals that need it most over the coming days. AB InBev has committed to producing and donating more as needed.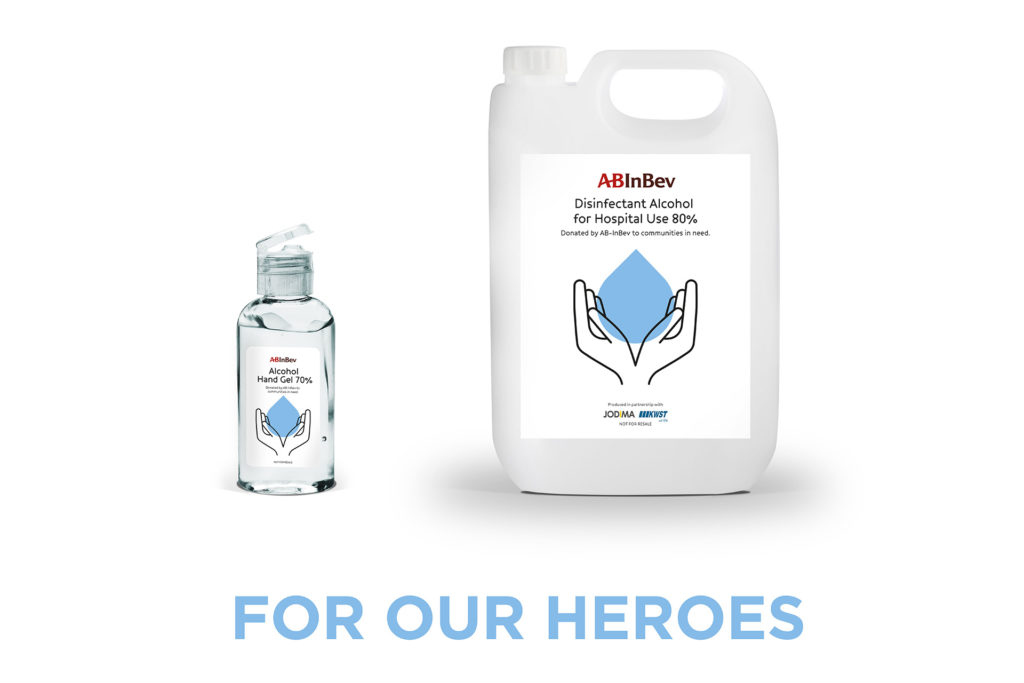 A further 26,000 bottles of hand sanitizers have also been produced from the alcohol removed from alcohol-free beers. These 250ml bottles will be given out to pharmacies and frontline workers across Europe.
"Unlike many other products you buy, beer is local – we grow our barley here in Europe and brew it close to source in our breweries, which means we are deeply rooted in our local communities and will do everything we can to help them in these times." Jason Warner, President of AB InBev in Europe said. "Turning our efforts from brewing with barley and hops to producing disinfectant and hand sanitizers was a different challenge, but one that we rose to given the current situation."
AB InBev's famous Beck's brewery in Bremen, Germany, also completed a first production run of 1,000 disinfectant liquids today, re-packaged in flint Beck's beer bottles, and distributed to local businesses and services as supply shortages intensify.
As European governments and public health bodies seek to combat the spread of the COVID-19 virus and counter the rise of disinformation, AB InBev is also offering billboards to public health awareness messages. The prime out-of-home advertising space in key cities in Belgium and the Netherlands will be donated to public health campaigns, alongside production costs and pro-bono design work from AB InBev's creative agency, DraftLine, to reinforce preventative measures for those still commuting to work.
Jason Warner continued: "Beer has been bringing people together for hundreds of years. In this unprecedented time we want to turn our attention to supporting public health efforts and ensuring those around us can stay safe and healthy. We thank the frontline workers who are tirelessly battling COVID-19 and as a gesture, we'll be handing out over a million of our alcohol-free beers to them in the coming weeks, so we can raise a toast to their great work."
ENDS
Notes to editors
Multimillion euro package is based on €1.5m average market value of disinfectants and hand sanitizers, €0.5m of billboard advertising space, production costs and design work and €1.3m of alcohol-free beers.
We have been made aware of several phishing scams circulating in some parts of the world, using our company name to ask for hand sanitizer donations in a bid to defraud users' data. We have reported these sites, however we ask people to remain vigilant to cybercrime during this time and report any suspicious websites to the relevant local authority.
For more information please contact:
Louise Fernley, Communications Director for Europe, AB InBev
Louise.fernley@ab-inbev.com / +44(0)7961406684
About AB InBev
Anheuser-Busch InBev is the world's leading brewer and is a publicly traded company based in Leuven, Belgium. Our Dream is to bring people together for a better world. We are committed to brewing the best beers using the finest natural ingredients and to be enjoyed in a responsible manner. From our European roots at the Den Hoorn brewery in Leuven, Belgium, we are now a geographically diversified brewery with a balanced exposure to developed and developing markets, we leverage the collective strengths of approximately 175,000 employees, including 12,000 in Europe. We have offices and breweries in 18 EU Member States and our Global Innovation Centre is also based in Leuven, Belgium. Follow us on Twitter at @ABInBev_EU
For more information about Anheuser-Busch InBev, please visit www.ab-inbev.com