Partnership between AB InBev, La Lorraine Bakery Group and Delhaize supermarket will donate one in every five loaves to Belgian food banks
Friday May 8th 2020, Leuven: Three Belgian companies have joined forces for a new project to help those affected by the current COVID-19 crisis. AB InBev, La Lorraine Bakery Group and Delhaize have jointly developed an exclusive bread made with Leffe Blond or Leffe Brun beer.
For every five loaves sold in Delhaize stores, a family loaf (800g) will be donated to the Belgian Food Banks, who are now more in need of fresh food than ever before.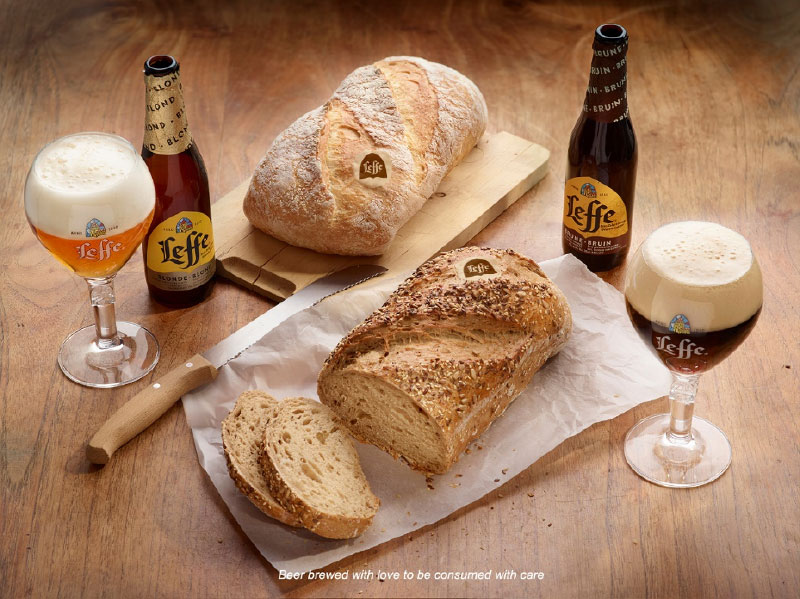 Emma Pieters, Senior Brand Manager for AB InBev in Benelux said: "As the hospitality sector remains closed to stop the spread of COVID-19, we wanted to donate the kegs of Leffe destined for these cafes and bars to a good cause.  As part of Leffe's strong abbey tradition, we gave our barrels of Leffe Blond and Leffe Brun to La Lorraine to create this special bread, which will in turn support Delhaize's work with food banks. This latest project forms part of our wider community work, which includes supporting Belgium's bars through our Café Courage programme and turning the alcohol from our 0.0 beers into free disinfectant and hand sanitizer for the frontline."
Charlotte De Vroey, Head of Sustainability at Delhaize, continued: "For many years, Delhaize has organized a large annual food collection for the benefit of the 9 Food Banks and their 618 affiliated local associations that distribute free food to the more than 170,000 people in need. We wanted to strengthen this support at this particular time through this project."
These exclusive loaves (Leffe Blond bread and Leffe Brown multigrain bread) are baked in the traditional way with pure, locally-sourced Belgian ingredients in one of La Lorraine's workshops in Belgium.
Guido Vanherpe, CEO of La Lorraine Bakery Group explained: "For La Lorraine Bakery Group, reducing food waste is an absolute priority in our sustainability strategy. When AB InBev let us know that they were looking for a destination for the Leffe that was unused due to the closure of the catering industry, we immediately explored the idea of using the beer to make bread! A traditional and local bread par excellence, a unique recipe developed and passionately made by our local bakers in Barchon, with Belgian flour and an emblematic Belgian beer, sold in the Belgian Delhaize supermarkets. This is also a bread with a message: we want to help people who are struggling in this crisis and for whom their daily bread means a lot. That's why we're donating family-size loaves to the Food Banks as part of this campaign."
Jozef Mottar, Managing Director of the Belgian Federation of Food Banks, commented: "On behalf of the Belgian Food Banks, the 618 affiliated local associations, the thousands of volunteers and all the people who call on free food aid, I would like to thank Delhaize, La Lorraine Bakery Group and AB InBev. Since bread is an important basic product for everyone, the initiative to support us can only be applauded. This gesture of solidarity motivates us even more to continue our efforts in the fight against hunger in our country, which is unfortunately increasing in this crisis."