The extended policy is starting from November across Europe, reaching more than 13,500 employees across 20 countries from the Canaries to the Far East
17 November 2021: AB InBev has introduced an enhanced parental leave policy for its 13,500 colleagues across Europe. The measures, which include increases to leave allowances for primary and secondary caregivers, are an important step in the company's wider commitment to create a more diverse and inclusive workplace​.
Effective starting from November 2021, all primary caregivers will see paid leave increase from 16 to 26 weeks. Paid leave for secondary caregivers will increase from 2 to 4 weeks. The new leave allowances will represent European minimums, with the potential to be increased on a market-by-market basis.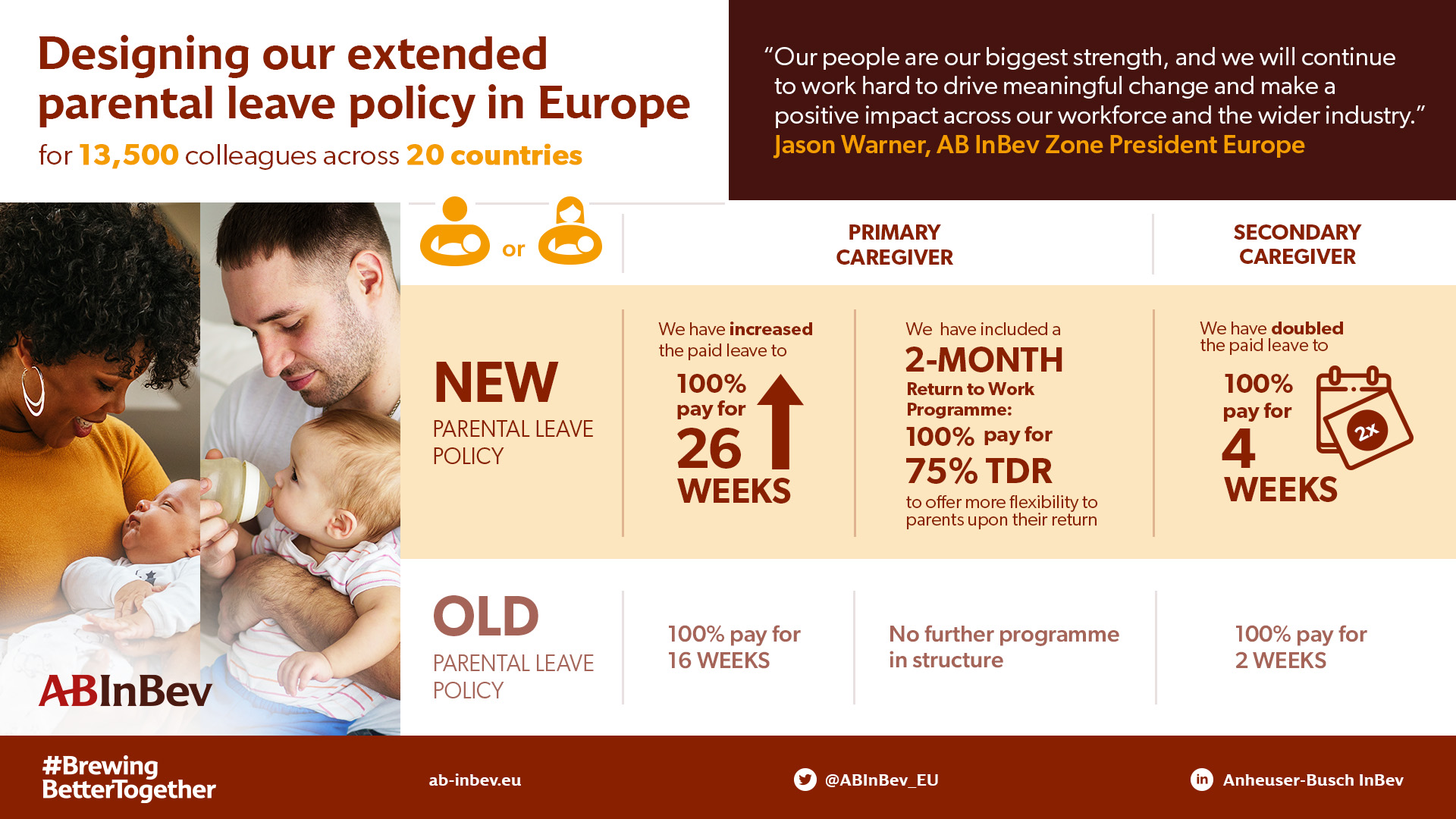 To help returning parents stay connected and offer more flexibility when transitioning back to work, AB InBev is also introducing an enhanced 'Return to Work' program which offers a special ramp-on period (8 weeks) for employees, including 100% of payment for 75% of working time, to better adapt in the new life experience.
Jason Warner, Zone President Europe, AB InBev said: "As a company that is committed to diversity and inclusion, we believe we have not only a responsibility but an opportunity to really support our colleagues through important life events. We understand that becoming a parent – whichever route the journey takes – is an incredibly exciting but sometimes overwhelming time. It's immensely important to us that all families feel supported throughout this experience.
"Our people are our biggest strength, and we will continue to work hard to drive meaningful change and make a positive impact across our workforce and the wider industry.
"The new measures were implemented after extensive benchmarking and listening sessions with employees as well as their managers. We really hope the changes give new parents the time they need to build that crucial bond with their children before coming back to work."
The extended policy represents an important part of AB InBev's wider Diversity & Inclusion commitments: to become a more inclusive workplace, to work towards gender parity, to improve work-life balance and to strengthen the partnership between the company and its employees.
-ENDS-
For more information please contact:
Evgeniya Litvinova, Communications Director for Europe, AB InBev
Evgeniya.Litvinova@abinbevefes.com
About AB InBev
Anheuser-Busch InBev is the world's leading brewer and is a publicly traded company based in Leuven, Belgium. Our Dream is to bring people together for a better world. We are committed to brewing the best beers using the finest natural ingredients and to be enjoyed in a responsible manner. From our European roots at the Den Hoorn brewery in Leuven, Belgium, we are now a geographically diversified brewery with a balanced exposure to developed and developing markets, we leverage the collective strengths of approximately 175,000 employees, including 12,000 in Europe. We have offices and breweries in 18 EU Member States and our Global Innovation Centre is also based in Leuven, Belgium. Follow us on Twitter at @ABInBev_EU
For more information about Anheuser-Busch InBev, please visit www.ab-inbev.com