Anheuser-Busch InBev (AB InBev) has announced the continuation of its partnership with The Coca-Cola CAnheuser-Busch InBev (AB InBev) has announced the continuation of its partnership with The Coca-Cola Company, Colgate-Palmolive Company and Unilever to fund and pilot sustainable innovation in supply chains through its 100+ Accelerator program. With the launch of its fourth cohort, the world's largest brewing company has also announced a dedicated European program, 100+ Europe Labs, with partners Siemens, Bain & Company, Colruyt Group and Ball Corporation.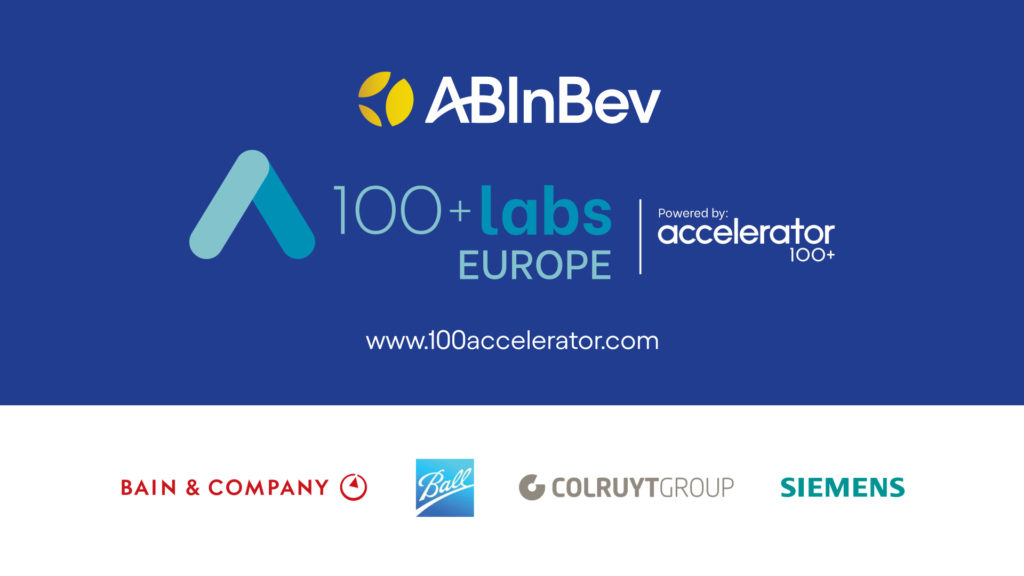 Launched in 2018, the 100+ Accelerator is a global incubator program that works to solve supply chain challenges by supporting innovative startups across water stewardship, circular economy, sustainable agriculture, climate action, inclusive growth, and biodiversity.
The 100+ Accelerator offers size and scale to passionate entrepreneurs to help bring their solutions to market faster. Over the last two years, the program has accelerated 70 companies in over 20 countries, raising more than 300 million USD to date and many of the startups have secured long term contracts with AB InBev.
Close to 50% of these startups are scaling globally to achieve the program's mission: to accelerate the world's shift toward sustainable solutions and to do business the right way, not the easy way. The startups' innovations have already created tremendous impact, including:
Supporting farmers to transition hectares of land to more profitable and regenerative agriculture
The implementation of green cleaning solutions to reduce water and energy use in brewing operations
Solutions delivering traceability and insurance for smallholder farmers
The collection of more than 1,000 tons of glass waste
Recycled electric vehicle batteries that store renewable electricity
The ability to upcycle saved grains from the brewing process to produce nutritious ingredients
The first solar thermal systems to be installed at an AB InBev brewery
This year, AB InBev, has also launched 100+ Europe Labs with Siemens, Bain & Company, Colruyt Group and Ball Corporation. The program will enable AB InBev and its partners to work with innovative companies across Europe to develop solutions tailored for key European challenges.
Anna Voronkova, Entrepreneurship lead Europe, AB InBev, said: "No one company or organisation can solve today's sustainability challenges alone. Collaborative partnerships allow us to really harness the scale, speed and transformation necessary to propel sustainable innovation and we're excited that this year we can introduce a European-focused program with our partners' support."
"Since its inception, the 100+ Accelerator has driven some incredible projects globally across a diverse range of sustainability challenges – from water sanitation to reducing microplastics. With the creation of 100+ Europe Labs, we are eager to work hand in hand with the global accelerator to build on our momentum and partner with more companies to increase the impact of our program. These entrepreneurs are going to change the world and help build our sustainable future."
Marcel Arsand, Sustainability and Public Affairs Director, Ball Beverage Packaging EMEA said:
"I'm looking forward to meeting the startups that are bringing much-needed creativity and ingenuity to solving the complex challenges that businesses like ours face. We're pleased to be joining this year's 100+ Europe Labs cohort at such a crucial moment, as the potential of infinitely recyclable aluminium cans' contribution to real circularity is becoming better understood."
Astrid Van Parys, Sustainability Manager, Colruyt Group, added: "At Colruyt Group we attach great importance to sustainability and as a major Belgian player we are constantly investing in the future. Discovering ways to support the transition to a sustainable society together with partners is a big part of this. We are happy to contribute to this initiative through a number of jointly chosen sustainability themes and look forward to stimulating young entrepreneurship in the search for these new solutions and perspectives."
100+ Europe Labs will offer size and scale to passionate entrepreneurs to help bring their solutions to market faster. In addition to funding pilot programs, up to 100,000 USD per pilot, 100+ Europe Labs will provide 'hands-on' support to startups by assigning dedicated teams to help test out their new solutions in a large global supply chain.
AB InBev is inviting other companies who share a common vision to join 100+ Europe Labs as a partner for future cohorts, with ambitions to have at least 10 corporation partners for 100+ Europe Labs by 2025.
The applications for the fourth cohort of the 100+ Accelerator and 100+ Europe Labs are open now until 30th April at www.100accelerator.com.
-ENDS-
About AB InBev
Anheuser-Busch InBev is a publicly traded company (Euronext: ABI) based in Leuven, Belgium, with secondary listings on the Mexico (MEXBOL: ANB) and South Africa (JSE: ANH) stock exchanges and with American Depositary Receipts on the New York Stock Exchange (NYSE: BUD). As a company, we dream big to create a future with more cheers. We are always looking to serve up new ways to meet life's moments, move our industry forward and make a meaningful impact in the world. We are committed to building great brands that stand the test of time and to brewing the best beers using the finest ingredients. From our European roots at the Den Hoorn brewery in Leuven, Belgium, we are now a geographically diversified brewery with a balanced exposure to developed and developing markets, we leverage the collective strengths of approximately 164,000 employees, including 13,500 in Europe. We have offices and breweries in 18 EU Member States and our Global Innovation Centre is also based in Leuven, Belgium. Follow us on Twitter at @abinbev_EU.
For more information about Anheuser-Busch InBev, please visit www.ab-inbev.eu