In a major step for the brewer's Smart Drinking Goals, Corona's new non-alcoholic beer, brewed with 100% natural ingredients, has launched in ten European markets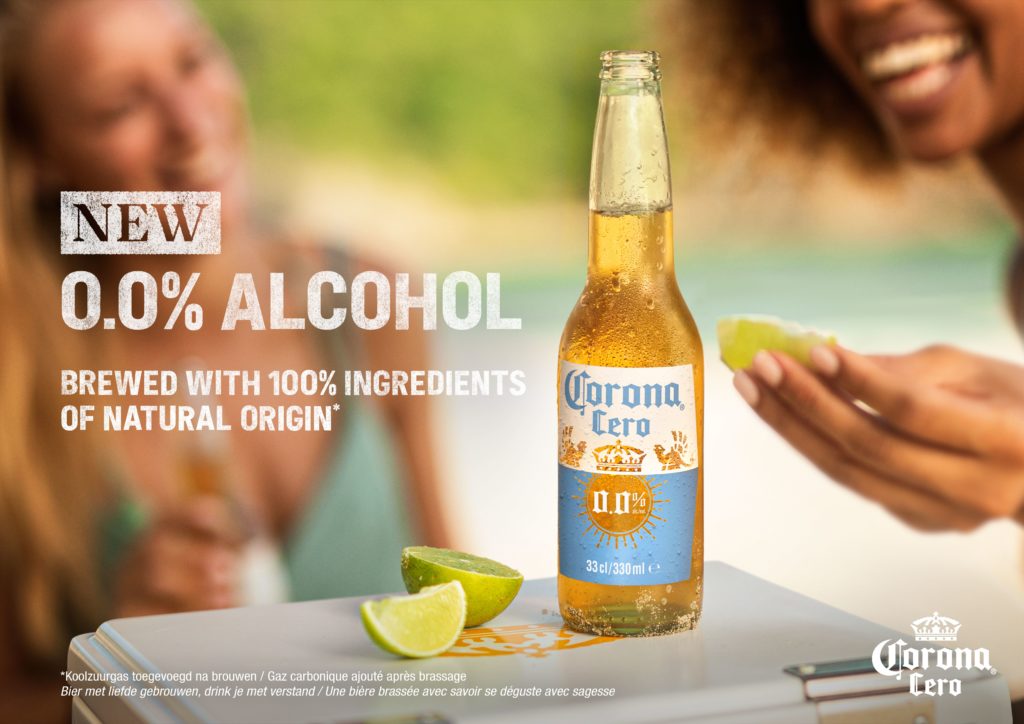 Still offering the classic refreshing taste of Corona, the new Cero caters for consumers looking for a non-alcoholic option with quality, 100% natural ingredients. A beer that was born at the beach, just like Corona Extra it is best served cold with a wedge of lime.
AB InBev, the world's largest brewing company, has announced the European launch of Corona Cero, a new non-alcoholic beer brewed with 100% natural ingredients. Corona Cero is available now in Belgium, Finland, France, Denmark, Germany, Netherlands, Norway, Poland, Sweden and the UK.
Irini Komodikis, Corona Marketing Director, Europe said "Corona has always been an invitation to enjoy more of life's great moments outside, with close friends and a beer in hand – of course, there's lots of occasions where we don't want to consume alcohol while we do this. It's all about giving people as much choice as possible, exploring our natural ethos even further and staying responsive to what is a rapidly growing category."
Globally, AB InBev's non-alcoholic beer portfolio delivered double-digit revenue growth in 2021, driven by several brand extensions and local launches. With IWSR forecasting the global no/low alcohol category total volume to grow by 31% by 2024, it's an increasingly key part of the brewer's portfolio.
AB InBev's smart drinking initiatives are underpinned by its Global Smart Drinking Goals, focused on shifting social norms, consumer behaviours, and its own business practices to make a tangible contribution to reducing harmful use of alcohol globally. Over the past five years, AB InBev's non-alcoholic portfolio has expanded significantly from 26 to 42 brands, with the launch of Corona Cero representing another important milestone in the brewer's smart drinking ambitions.
Irini continued: "Smart drinking is such an important part of our company culture and, as the world's leading brewer, we want every experience with beer to be a positive one. Our Global Smart Drinking Goals guide us all year round in making the right choices and empowering our consumers to drink smart.
"With the European launch of Corona Cero we now have even more options to encourage a culture of responsibility among our customers and a worthy addition to our growing range of no-and-low alcohol beers."
Join the conversation on Twitter @corona.
-ENDS-
About Corona
Born in Mexico, Corona is the leading beer brand in the country, the most popular Mexican beer worldwide exported to more than 180 countries. Corona Extra was first brewed in 1925 at the Cervecería Modelo in Mexico City. Corona is a pioneer in the beer industry by being the first to use a transparent bottle showcasing its purity and high quality to the world. The artwork found on the bottle is painted, highlighting our commitment to quality in our packaging and our Mexican heritage. No Corona is complete without the lime. Naturally adding character, flavor and refreshment, the lime ritual is an integral part of delivering an experience that is truly unique to Corona. The brand is synonymous with the beach and celebrates time outdoors. It invites people to pause, relax and enjoy the simple pleasures of life.
About AB InBev
Anheuser-Busch InBev is a publicly traded company (Euronext: ABI) based in Leuven, Belgium, with secondary listings on the Mexico (MEXBOL: ANB) and South Africa (JSE: ANH) stock exchanges and with American Depositary Receipts on the New York Stock Exchange (NYSE: BUD). As a company, we dream big to create a future with more cheers. We are always looking to serve up new ways to meet life's moments, move our industry forward and make a meaningful impact in the world. We are committed to building great brands that stand the test of time and to brewing the best beers using the finest ingredients. From our European roots at the Den Hoorn brewery in Leuven, Belgium, we are now a geographically diversified brewery with a balanced exposure to developed and developing markets, we leverage the collective strengths of approximately 164,000 employees, including 13,500 in Europe. We have offices and breweries in 18 EU Member States and our Global Innovation Centre is also based in Leuven, Belgium. Follow us on Twitter at @abinbev_EU.
For more information about Anheuser-Busch InBev, please visit www.ab-inbev.eu