Jason Warner, Europe President, AB InBev comments on our 4Q21 and FY21 results and provides his outlook for Europe
In 2021, we built on the momentum of our premium and super-premium brands to deliver a strong top-line performance, ahead of the pre-pandemic period. Our performance is driven by our obsession to win with consumers and customers through a common, scalable portfolio of world-class brands across Europe.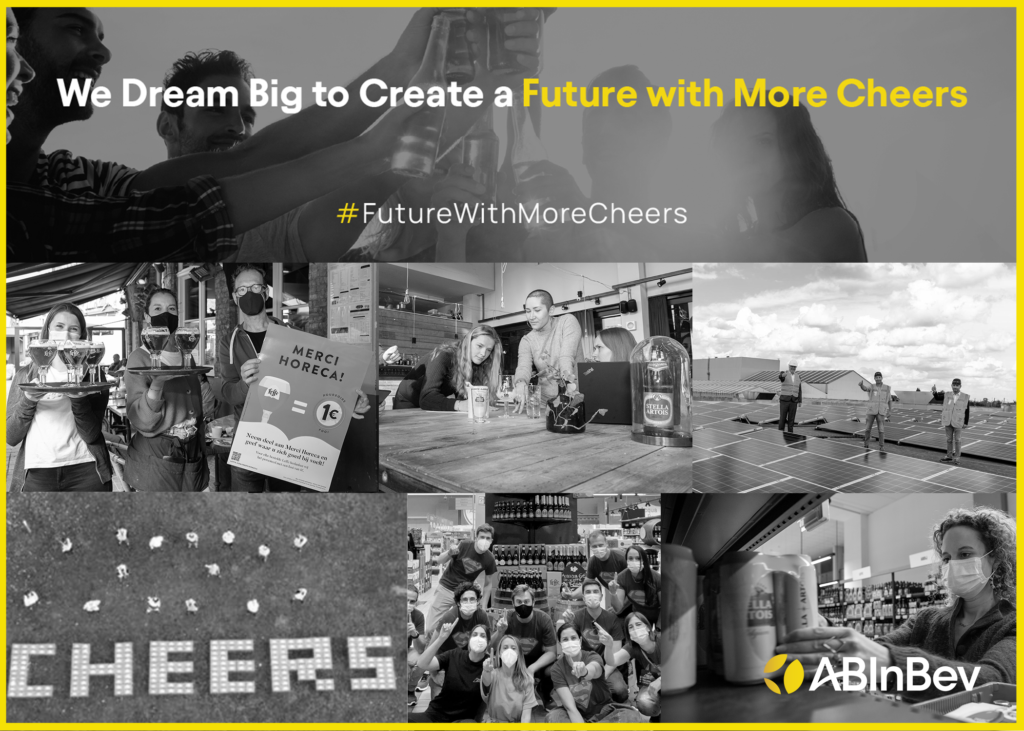 In the off-trade channel, we gained an estimated +1.0pp of market share vs pre-pandemic levels, driven by the performance of our global brands, craft and specialities portfolio. We have also extended our Beyond Beer portfolio in Europe, by launching Bud Light Seltzer in the UK, in addition to Mike's Hard Seltzer.
In 2021, we remained flexible and agile in a challenging operating environment. Across Europe, lockdowns had an impact on the on-premise channel with bars and restaurants closed for five months, and restricted operations for the rest of 2021. We continue to work closely with our partners and communities to fuel the recovery of the channel and are optimistic about the re-opening in 2022 and beyond which positions us to have a stronger, bigger, and more profitable business as we emerge from the pandemic.
We continue to accelerate digital transformation, with digital sales now accounting for 75% of our top-line in the on-trade channel. Our Direct-to-Consumer platform, led by PerfectDraft, now delivers the ultimate home beer experience to 55% more households than in FY20, and in FY21 grew 9x as fast as the online beer category in both France and the UK.
We have enhanced our sustainability commitments by announcing a global ambition to achieve net-zero across our entire value chain by 2040, with five major breweries in Europe to reach net-zero operations in 2028. As part of this commitment, closer to the end of 2021 we announced our first large-scale green hydrogen generation system at the Magor brewery in the UK.
We also announced an enhanced parental leave policy for our European colleagues, with extended paid leave for primary and secondary caregivers and a more flexible work schedule in returning to work.
I am incredibly proud of the hard work of our customers, colleagues across our breweries, and the full AB InBev team supporting Europe for delivering these results. In 2022, we will continue to lead and grow the category with our premium and super-premium portfolio, invest and build the Beyond Beer category and accelerate digital transformation. We believe that the passion and resilience of our teams will help us become stronger to create a future with more cheers!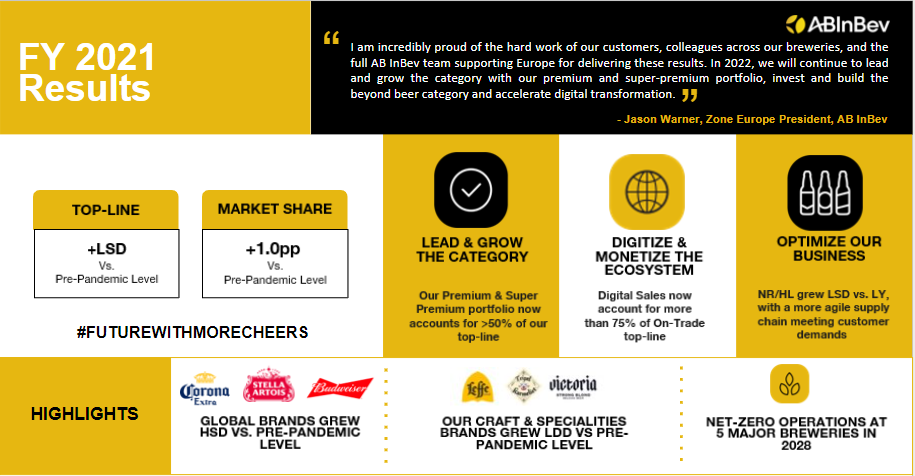 Ends
About AB InBev
Anheuser-Busch InBev is a publicly traded company (Euronext: ABI) based in Leuven, Belgium, with secondary listings on the Mexico (MEXBOL: ANB) and South Africa (JSE: ANH) stock exchanges and with American Depositary Receipts on the New York Stock Exchange (NYSE: BUD). As a company, we dream big to create a future with more cheers. We are always looking to serve up new ways to meet life's moments, move our industry forward and make a meaningful impact in the world. We are committed to building great brands that stand the test of time and to brewing the best beers using the finest ingredients. From our European roots at the Den Hoorn brewery in Leuven, Belgium, we are now a geographically diversified brewery with a balanced exposure to developed and developing markets, we leverage the collective strengths of approximately 164,000 employees, including 13,500 in Europe. We have offices and breweries in 18 EU Member States and our Global Innovation Centre is also based in Leuven, Belgium. Follow us on Twitter at @abinbev_EU.
For more information about Anheuser-Busch InBev, please visit www.ab-inbev.eu